In conjunction with Event Lighting Services Ltd, we offer a comprehensive marquee lighting service; from specialist lighting equipment for marquees and weddings to lazer shows and special effects.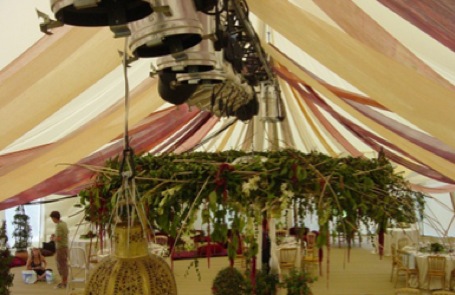 We encourage the creative use of space and lighting to make the best of every event. Any venue can be transformed to create a spectacle that will make your event stand out from the rest.

From simple, warm, and soft lighting, to super-trendy moving head light fixtures, we have your event lighting needs covered. Wedding lighting hire to dance music event.

Vj - Visuals

With the advent of high definition projectors, and super-fast laptop computers a new art form has developed in recent years.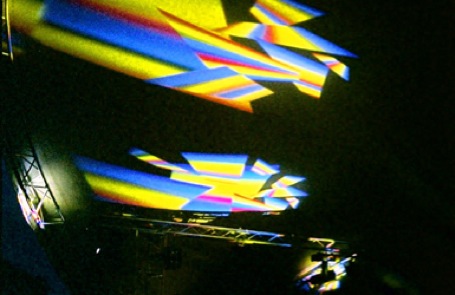 The artistic use of projections in night-clubs and festivals created the Vj - the visual jockey. We have taken digital and analogue projectors inside marquees, night-clubs and other venues and used them to project still and moving images for decoration, entertainment and above all – atmosphere.

See also - AV equipment hire [click]

Projections over a dance floor look stunning with smoke effects, and other lighting. We can use still and moving images projected behind a DJ or onto almost anywhere inside or even outside a marquee.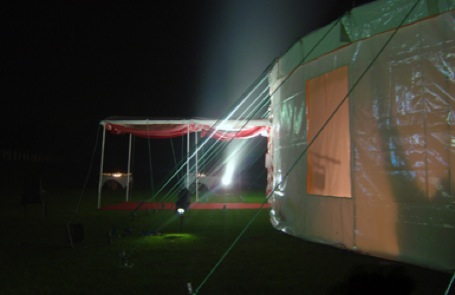 Outdoor lighting

We can use a variety of lanterns to illuminate architectural features, plants, and trees. A well lit site adds to the atmosphere of the event tremendously. Colour washes on buildings and plants can create stunning effects. Fantastic for Weddings and other marquee events.

Driveways, car parks, pathways, and entrances to marquees or buildings can be lit to ensure a safe event. Event safety lighting.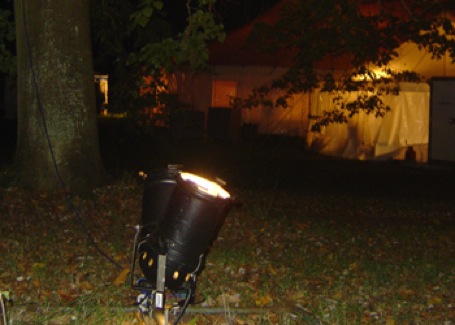 Marquee Power

Caterers, entertainers, event lighting - all require power. For a successful event a reliable and safe power source is required.

We can organise power distribution for small through to large events. If the grid supply is inadequate, or non-existent, we can provide or specify a generator suitable according to the power budget for the particular event. Careful management is required to ensure the safety of all persons on site.

Email us if you have any questions about special effects.
Or fill out our online enquiry form [click here]

Fireworks and other such displays can be arranged to suit your requirements.